The automatic cover MOOVE'O secures your pool without loosing swimming space.
ADVANTAGES:
MOBILE
MOOVE'O  is ideal for either existing or renovation pools.
It's mobility is perfect to equip  pools with large rounded corners (polyester pools) or with large cut corners (in-ground wooden pools).
SELF CONTAINED AND ECONOMICAL
MOOVE'O is equipped with a tubular motor working with solar power for the rolling and unrolling of the cover. A manual rolling/unrolling is also possible if necessary.
AESTHETIC
MOOVE'O has no guiding rails so it offers a surrounding completely free.
MOOVE'O is available in 3 colours (white, beige and grey) for perfect integration to any environment.
EASE TO USE
MOOVE'O can be rolled away from the pool by one person only. It follows a straight line thanks to its coupled wheels.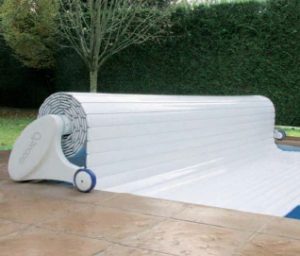 QUALITY MATERIAL
The structure of MOOVE'O is made of moulded aluminium: the laquered painting guarantees a protection against rust and outdoor aggressions. The screws are in A4 stainless steel.
[subpages]