Heliocol is the most efficient solar pool heating system on the market, producing more heat per roof than any other system.
Part of Heliocol's efficiency comes from its one-of-a-kind individual tube design. Not only do Heliocol's individual tubes create more heat than other types of collectors, round tubes are the most efficient means of absorbing the sun's energy. Heliocol's patented individual tube design allows for maximum absorption of the sun's heat all day long, unlike other panels which are most efficient only at solar noon.
Heliocol is also more efficient thanks to its flexible design and patented mounting system. Heliocol solar panels come in a wide variety of sizes and fit snugly on your rooftop, without unsightly gaps. With less wasted space, you can pack more power on every rooftop using Heliocol.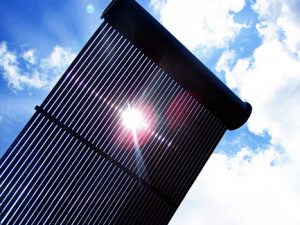 HOW DOES HELIOCOL WORK?
At the most basic level, Heliocol solar pool heaters simply amplify the laws of nature. Heat from the sun will always warm the water in your pool to a certain extent. A Heliocol solar pool heating system enhances this natural effect, simply and efficiently extending your swim season.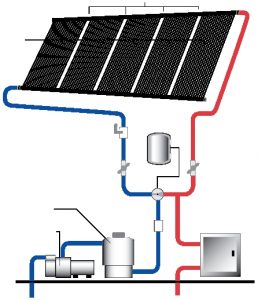 Heliocol solar pool heating systems have three basic components: a panel, a pump and a filter. A pump, usually your existing pool pump, pushes water through a filter to strain leaves and debris. Water is then pumped into a Heliocol solar panel mounted on your roof, porch, fence, or any other location with good sun exposure (optimally south facing ). The water is substantially heated as it moves through the panel and it flows back into your pool, warming the water. Unlike solar water heaters for indoor use, solar pool heaters do not require a storage tank. Your pool provides all the storage required.
[subpages]