AQUASPOILER – The Ultimate Leading Edge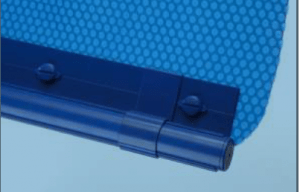 Before AquaSpoiler:                              With AquaSpoiler:
Debris getting caught                                   Totally encapsulated
Mouldy                                                            Easy to clean
Tatty looking                                                  Robust and strong
Tangled pulling ropes                                  One detachable control pulling point
Press fix connectors popping off               New screw Smartclic connections
Reuseable on future solar covers, so excellent value for money
AquaSpoiler is extruded using ABS material (with extra UV stabiliser) which makes it strong, light and bouyant. It won't get
mouldy and unslightly debris won't get trapped inside any part. The different component parts all snap together to make a very rigid boom. This will all be done in the factory as well as pre-drilling the holes to connect AquaSpoiler to the cover.
To connect the AquaSpoiler to the solar cover the revolutionary new connector SmartClic is used. These screw tightly together which means they won't just pop off.
[subpages]