All features included in the
Beachcomber Model 740 Hybrid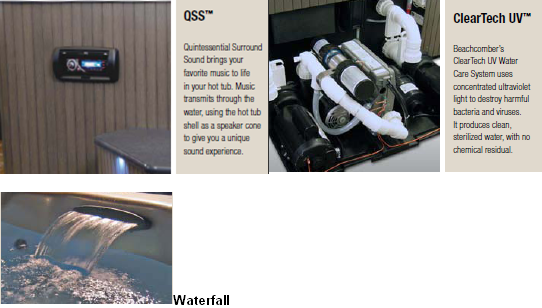 THE HYBRID HOT TUB DEFINED
'All four side of a hot tub's interior cavity are foam insulated, with every available space filled.  Efficient plumbing design with an external management control system maximizes waterport hydrodynamics which gives all active seating, using the least number of massage pumps with the lowest possible horsepower and energy use'
Eco4WALL TM Sealed Insulation Package
All 4 walls and every available space of the hot tub cavity is spray filled with energy saving, Icynene foam to maximize heat retention of the hot tub vessel.
Energy Saver TM Management System
Technology that programs up to the minute water flow, reduces power usage and saves you money.  Built in conjunction with Eco4WALL Sealed Insulation package, the Hybrid hot tub provides maximum massage with the lowest energy use.
Together these two features perform the two essential Hybrid tasks:
First, maximizing the amount of insulation in the hot tub cavity to sustain the water temperature is a must!
Second, to lower the use of horsepower and the number of motors, which is mandatory to reduce the total hot tub operational costs.
[subpages]