MX™ 8
Without doubt the best suction cleaner for X-treme cleaning performance
The MX™ 8 suction cleaner benefits from mechanical suction technology, for methodical thorough cleaning.  A powerful turbine, complemented with two propellors guarantees boosted suction power.
The tracked wheels ensure enhanced stability and coverage.
.  Pre-programmed X-Drive navigation system
.  Turbo aspiration
.  Traction using notched tracks for perfect stability and total movement
.  Large cleaning foot print, optimised cleaning for each zone
For which pools?
Private, in-ground and above-ground pools with rigid walls; rectangular, oval or free form.
All surfaces -tiling, liner, polyester shell, reinforced PVC or painted concrete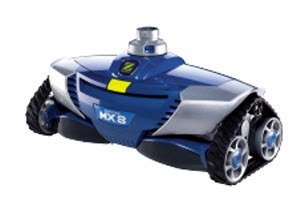 Other HYDRAULIC SUCTION ROBOT CLEANERS available –
.  T5 Duo
.  Pacer
.  Kontiki 2
Please don't hesitate to contact us for more information.
[subpages]