Rule your pool with a rod of iron
You can connect all your pool equipment (Zodiac® or other makes) to your AquaLink TRi® unit (filtration, water treatment, heating, lighting, cleaning, water features, etc.) and by so doing take control of it extremely easily.
Easy to use
Using AquaLink TRi® you can control, program and operate all the functionalities of your swimming pool, to suit your needs and habits.
Program your requirements and set yourself free from routine repetitive tasks: water treatment, cleaning, etc.
Result: you can manage your pool remotely – where you want, when you want.
Tip
Create a program that will enable you to operate your heat pump and pool cleaner from your workplace, for example. So you can enjoy a pool that is clean and at the ideal temperature as soon as you get home!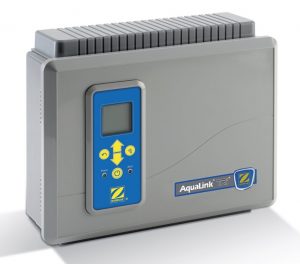 Pool automation means controlling all your swimming pool equipment remotely (filtration, water treatment, heating,
lighting, cleaning, water features, etc.). The AquaLink TRi® unit is the central component of the pool and assures connection between the various equipment systems. In this way you can control them and operate them very easily from your smartphone, tablet or computer.
With several years' experience in automation in the United States, Zodiac® has created AquaLink TRi®, the innovative solution for simply controlling different swimming pool equipment, using your smartphone*, tablet or computer.
AquaLink TRi® can be installed on all types of private pools.
*Only Zodiac® iAquaLink™ technology is compatible with all mobile platforms
[subpages]